To truly appreciate the colors and details of a stunning photograph, nothing compares to a fine art print. Prints not only provide a means to display a photograph at a much larger scale, they also allow for the photograph to be printed in an expanded color space beyond the sRGB of the Web. The result is a piece of art that fully captures the details, colors, and beauty of the scene as I experienced it.
Aluminum Prints
My personal favorite method of photo printing and display is to print my photographs on aluminum through a process known as dye-sublimation. The result is a print of unrivaled clarity, color, and beauty.
Hanging Options & Finish
All of my aluminum prints come ready-to-hang with a float mount (details below). All prints come with a semi-gloss finish that accentuates the colors and details of the print, while also minimizing glare.
Float Mount
Float mounts set the print 1" off the wall, giving the print the appearance of "floating" off the wall. This striking and modern look eliminates the need for a frame, matting, and glass, reducing cost and glare.
Finishing Touches
All prints are hand-signed, and include the year in which they were printed. While prints are typically signed in the bottom-right corner, occasionally the bottom-left will be signed if it fits the composition better. I also include a handwritten note with each print about the moment captured in the photograph, what it means to me, and what I hope it will mean to you.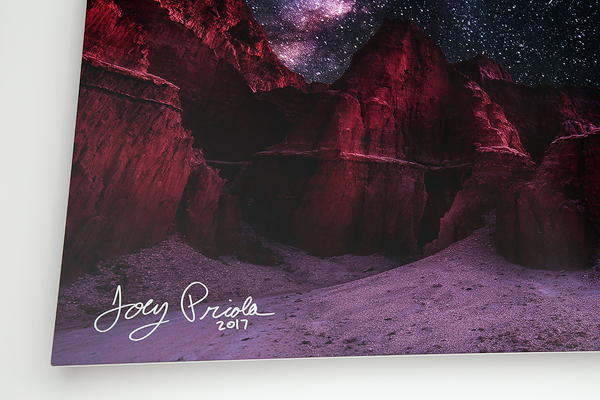 Paper Prints
Traditional paper prints are an excellent and affordable way to enjoy my photography in your home or office. Prints are made on high-quality Kodak Lustre paper, which showcases the colors and contrast of the image and has a slight, almost pearl-like texture that provides added depth. This paper also has the benefit of possessing minimal glare, so that the print can be enjoyed in uneven lighting when framed.
Custom Orders
Looking to purchase a print in a different style than paper or aluminum? Please reach out to me via the "contact" header on this website and I'd be happy to work with you to meet your needs.
How to Order
To purchase a print, simply click "Buy" below the image title and caption, and you'll be able to select the size and framing option of your choice. If you are viewing the image on a mobile device or in full screen mode, just click the << symbol in the upper-right of the webpage to reveal the "Buy" option. For any questions regarding prints, please send me a message by clicking on the "contact" tab at the top of this page, and I will get back to you shortly. Prints are typically delivered within 2-3 weeks of ordering.